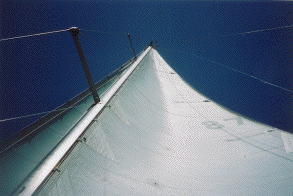 Sailing close to the wind uses the shape of the sails to generate lift. To flow around the sails, the wind has to deviate in direction, as shown by the arrows for initial velocity vi and final velocity vf, which are given with respect to the boat. The change of velocity dv is in the direction shown. The acceleration aa of the air is dv/dt, so the force Fa that sails exert on the air is in the same direction. (Newton's first and second laws: F = ma.) The force Fw that the wind exerts on the sails is in the opposite direction. (There is also a Bernoulli effect, which contributes in a secondary way.)

Note that nowhere in this argument did we need to say that the wind was faster than the boat.

Now this force is mainly sideways on the boat, and it gets more and more sideways as you get closer to the wind. However, part of the force is forward: the direction we want to go. So...

Why doesn't the boat drift sideways? Well it does a little, but when it does, the keel, a large nearly flat area under the boat, has to push a lot of water sideways. The water resists this, and exerts the sideways force Fk on the keel.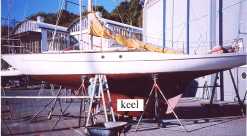 This cancels the sideways component of Fw. As to the forwards component: it accelerates the boat until the drag force Fd holding it back is big enough so that

So a boat can sail close to the wind: typically 45° to the true wind, although many high performance boats go closer than that. And it feels closer than 45°, as we'll see in diagrams below.
A little digression: the sideways components of wind and water on the boat make the boat heel (tilt) away from the wind, as is shown in the diagram below. These two horizontal components have equal size but opposite direction: as forces they cancel, but they make a torque tending to rotate the boat clockwise. This is cancelled by another pair of forces. The buoyancy and the weight are also equal and opposite, and they make a torque in the opposite direction. As the boat heels to starboard, the lead on the bottom of the keel, which has a substantial fraction of the weight, moves to port and exerts an anticlockwise torque. These two torques cancel.
So now back to our question: