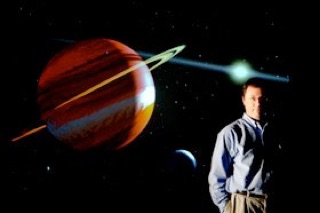 Our research explores almost every aspect of the hunt for, and study of, planets outside our Solar System.

We use a variety of observing techniques, including :

"Doppler Wobble" searches for planets orbiting Sun-like stars, sub-giants, M-dwarfs and transit -planet hosts;


Direct imaging of long-period companion systems with NICI on Gemini


"Direct" detection searches for planetary-mass members of nearby star clusters; and


Direct searches for the coldest planetary-mass brown dwarfs in large sky surveys.

We also explore the theory of the formation of exoplanets, and their dynamical evolution and survival.

The search for extrasolar planets, and the understanding of the habitability of those planets, is a key component of the global, multi-disciplinary astrobiology initiative. Our group is a key component of the Australian Centre for Astrobiology here at UNSW.

We also lead new instrumentation projects like the new CYCLOPS and CYCLOPS2 fibre feeds for the Anglo-Australian Telescope, and the Veloce spectrograph project.

Prospective PhD students from UNSW and elsewhere interested in working in exoplanetary science are encouraged to contact me to discuss possible research projects. I have funds to provide top-up support of $6000 per annum for PhD students with APAs or international scholarships.

UNSW Physics Honours students can also undertake research projects in our group - details on projects currently on offer can be found to here.


Exoplanetary Science at UNSW Publications

Exoplanetary Science at UNSW Funding

Exoplanetary Science at UNSW Students

Exoplanetary Science at UNSW People

Professor Chris Tinney - UNSW ResearchGate page,  Personal page and PHYS2160 (2014) page



Dr Rob Wittenmyer (Lecturer)



Dr Jade Carter-Bond (Research Associate)


Dr Duncan Wright (Research Associate)


Dr Jonty Marshall (VC Research Fellow)



Mr Brett Addison (PhD student)


Ms Daniela Opitz (PhD student)


Mr Matthew Davie (PhD student)


Mr Ian Morrisson (PhD student)

Former Exoplanetary Science members

Dr Stephen Parker (completed PhD in 2013)


Dr Jonti Horner (now at USQ)


Dr Graeme Salter (now at Laboratoire d'Astrophysique de Marseille)


Contact details


Prof. Chris Tinney


School of Physics


University of NSW. 2052


Australia


Ph: +61 2 9385 5168


Fax: +61 2 9385 6060


c dot tinney at unsw dot edu dot au








Australian Center for Astrobiology
- members in Astrophysics

Professor Chris Tinney (Deputy Director)


Mr Brett Addisson


Professor John Webb


Professor Michael Burton


Dr Maria Cunningham


Dr Lucyna Kedziora-Chudzer


Dr Jonti Horner


Dr Duncan Wright


Dr Graeme Salter

Exoplanetary Science at UNSW Links

Miscellaneous links









This page last updated 22 August 2014