Research

Semiconductor Nanowires
Semiconductor nanowires are tiny semiconductor crystals approximately 50 nanometers wide and up to 10 microns long that allow opportunities for building novel electronic devices from the bottom up by self-assembly. We are interested in exploring the physics of electron transport and quantum phenomena in nanowires, as well as investigating their potential as 1D conductors for spintronic applications.
Ballistic transport and spin-orbit coupling
Ultrapure AlGaAs/GaAs heterostructures provide access to low-dimensional electron and hole systems where the carriers can travel a long distance between scattering events. This provides an opportunity to make devices where ballistic transport is dominant. We are interested in looking at how ballistic transport and strong spin-orbit coupling combine, and ways this might be used to develop novel spin-based devices.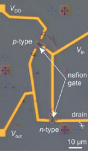 Organic Electronics
The ability to make electronics based on low-cost flexible polymer films is tantalizing, and in a collaboration with researchers at the University of Queensland we have been looking at how this might be realised using ion-beam techniques. We are also interested in organic semiconductors where the properties can be tailored chemically, and in collaboration with researchers at the University of Kentucky we have been exploring new routes to post-deposition crystallization of soluble acenes.